15aug – As expected BAX moved higher to $61.42 Expect peak around $61.50
Sold 60 puts and bought back 50 puts. Reduced leverage and max loss.
Will lock in $5.00 more profit to downside (sacrificing to upside) but at cost of 1.80
After this 99% chance of 12k gain on 241k margin, or 5 pct in 1 year.
Not great but should improve with further adjustments.

Once BAX reaches its short term peak (probably around resistance at $62.15 level – determine by waning volume , rsi position , stochastics), consider developing position similar to client S.. as follows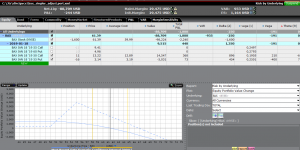 This will involve selling some of the calls on which we've made a profit. Over time, these having negative Theta will lose value, and will drop in value as stock price drops.