GLD – Milking My Rented Cow – Day 3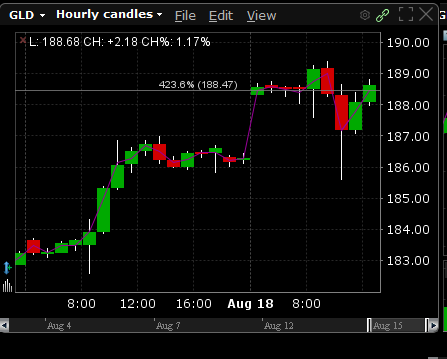 As the thumbnail image shows, yesterday afternoon GLD rose from 183 to 186. I had prophylactically sold a 186/185 bear put spread if GLD rose to 186, which brought in $0.50 of revenue per share. Now I was holding a -1 +1 -1 "ladder" spread. I did not have time to deal with this until midday, as I was heavily involved in some much larger positions that required my attention.

By the time I did address the GLD position, at around 1pm, GLD was trading around $188.47. Ideally, I would want to be short the 188 strike. So I closed the lower 2 rungs of the ladder, to simplify my positions. I bought back the 187 AUG 21 puts sold at $2.27 for $1.10, sold the 186 puts bought for $1.77 at $0.78. I bought back the 184 put sold at $1.11 for $0.46. Altogether I made $0.63 cents less fees on these rolls.
Finally, I established the new short position by selling the AUG 21 GLD put at 388 for $1.58.
To date I have brought in $194 in realized profits, and have a positive cash flow of $185 after all fees. My original hedge, the 182 AUG 27 put, has lost $187 of value. If I were to close all positions immediately, I would have a gain of around $5.00 after slippage and commissions (194-187 - 2) on an original outlay of $89.00 ($269 - $160). That's a 5% return in 3 days, not too shabby.
But of course I will not sell yet. I still have another 3 days of time to milk my rented cow...