At market close the POWERSHARES ETF (QQQ) was trending in a narrow range, having found support and bounced off the 99.68 level. My prognosis is that we will see QQQ bounce up to test the resistance at $103, then from there a move down over the next week to prices below $99.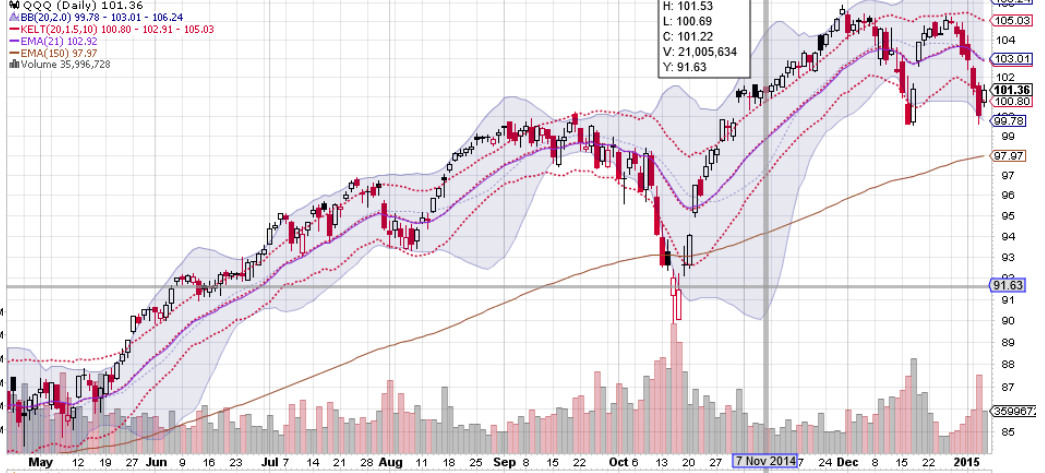 click to enlarge
Here's a wonderful way to play that, using the banker's money to finance a credit spread. If it never happens, and the stock stays stagnant, there is only a miniscule loss of about $5, and at bigger drops there is even a small maximum gain of $40. For every position you commit to this trade, you must have $2000 in margin. You have about a 1% chance of losing $5 and and 95% chance of making between $1 and $500. Those are odds anyone would like.
The Opportunity
Probability of success : greater than 95%
Risk : Reward : around 1 to 50
Duration: 2 day trade
Minimum Investment: -$40 (credit)
Maximum Investment: none
Margin Requirement: $2k per contract
Maximum Probable Loss : $5
Maximum Probable Gain : $250
Maximum Possible Loss : $5


The remainder of this posting is restricted to TradeJolt members only. Please login using the link below. If you are not a member yet, click below to sign up for our FREE 30 day trial membership.


Disclosure: Options investing is inherently risky. This is not a solicitation to buy or sell. Please read our full disclosure on this site.