Rackspace Hosting faces the perfect storm. This fast-growing cloud-computer technology stock just got hit by a double whammy. It has disappointed the market with less than stellar results in its most recent earnings report.
And its lost its CEO.
Management has admitted to difficulties competing with the bare-bones profit model of its chief competitor, Amazon Web Services, who is dead set on owning this industry sector. RAX management has already undertaken steps to cater to a more service-oriented, upscale corporate clientele, but this will probably be a bit of a learning curve, and growth and earnings may both suffer a bit along the way. At current market prices, around $31.50 at time of writing, a Reverse Cash Flow analysis reveals that the market projects an 18% growth rate over the next 10 years. I think that is too ambitious, given the competition.
To add insult to injury, RAX faces management upheaval, with its CEO Lanham Napier announced his retirement today, and no planned successor is on the horizon.
The market should punish this high-flier severely. It has already lost 33% of its value in just two days. But the damage may not be done. A glance at technical charts reveals that after a possible bounce at current prices, the stock may move much lower, possibly to $15, with a pause along the way at the $25 support level.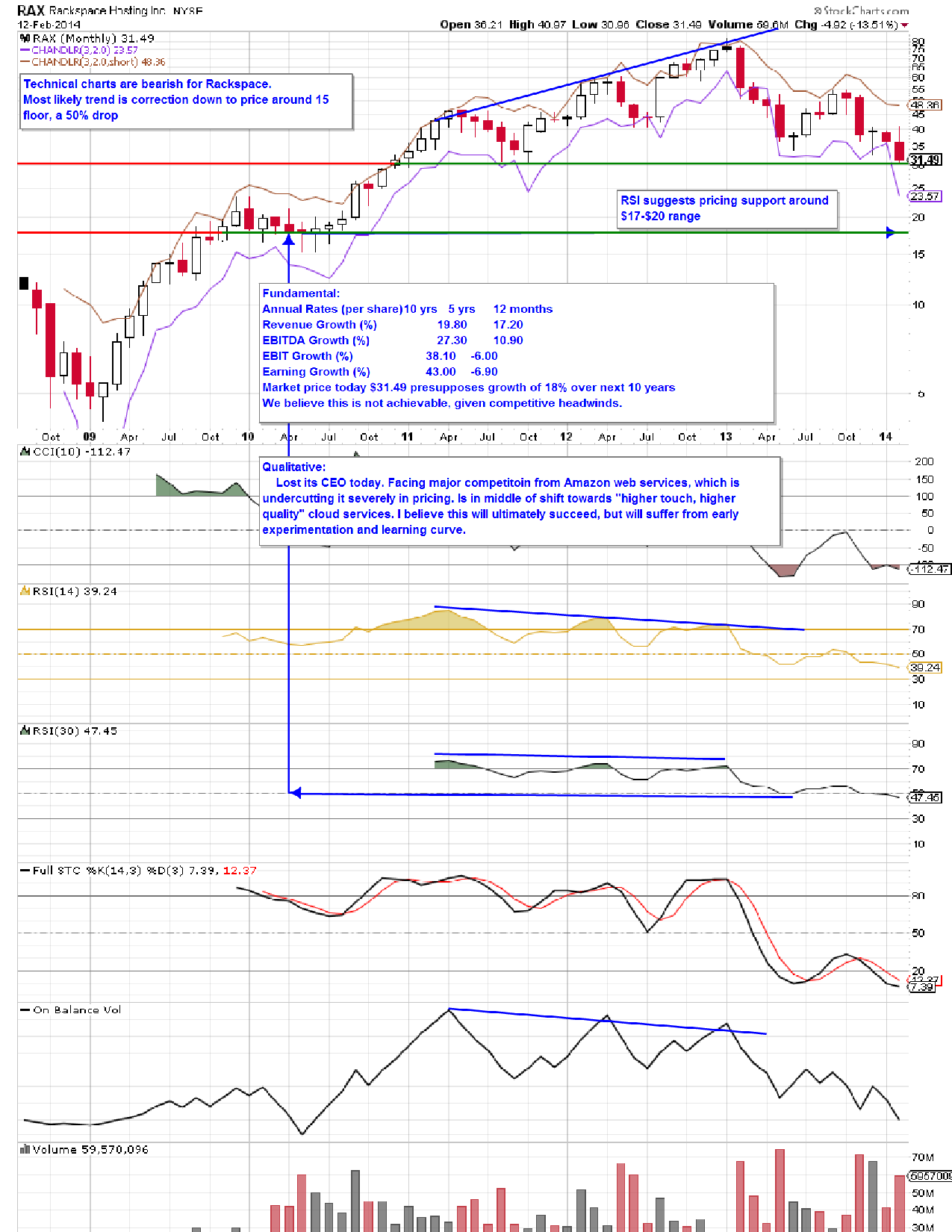 click to enlarge
This presents the following opportunity for aggressive investors, based on a a bearish options bet. It will lose a limited amount of money if we are wrong, and could hit big if the stock drops.
The Opportunity
Probability : 70% (my subjective guesstimate)
Risk : Reward : around 1 to 5
Duration: 7 day trade
Minimum Investment:$433
Maximum Investment: none